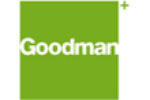 Website Goodman
At Goodman, we understand the world is constantly changing and to be part of the future we must remain agile and open to new ways of working. It's in this way we aim to give our customers the space they need to succeed by providing sustainable solutions and unparalleled service in high-quality locations. We actively pursue the very best people. And we give those people the space they need to grow and push us all a little further.
Position Objective
Responsible for the physical management and administration of lease obligations pertaining to the Property Management function. This includes responsibility for the condition and presentation of a portfolio of allocated assets.
To ensure that the administration of lease obligations and the physical performance of the assets are undertaken to the highest possible standard.
Key Responsibilities
The management of arrears as delegated by the Asset Manager;
The preparation of an annual capital expenditure budget for each property;
The preparation of an annual reconciliations of operational expenditure for each property;
Ensuring that contractors and service providers satisfactorily complete contracted tasks including responding to contractor inquiries, preparing necessary bids/contacts, COI and lien releases. Ensure all timely payment of all invoices;
Administering all matters relating to insurance including responding to risk assessment reports, responding to all inquiries from the Risk Management Department and providing all property related information required for insurance claims;
Ensure all rent reviews are undertaken in accordance with the requirements of the lease;
Maintain a current accurate tenancy schedule for all properties within the Yardi platform;
Preparation of lease approval forms and corresponding lease set-up documentation for all new Leases, licenses, renewals and short term occupancies;
Manage the process of coding of invoices, obtaining all necessary approvals and communication with Property Finance / Shared Services to ensure payments are made within a timely manner;
Ensure electronic Due Diligence files are kept up to date and accurate;
Prepare Capex approval forms in accordance with the delegated authority and capital expenditure approval process;
Individual must prove to makes good decisions in a timely manner, based upon a mixture of analysis, wisdom, experience and judgment;
Developing and maintaining strong relationships with customer key on site contacts and administration representatives;
Developing and maintaining strong relationships with all Customers and must have a passion for customer service excellence;
Responsible for ensuring harmonious relationships with key site contacts and tenant representatives resulting in the customer being satisfied with the management of the physical and lease administration requirements of Goodman;
Requires a team oriented individual, with the ability to build consensus and effective relationships in a cohesive business environment;
Individual must be driving to encourage and supports leadership and growth in others.
Any other duties as requested by the Employer.
Knowledge, Experience and Skill Requirements
Specific areas of knowledge
Completed a Bachelor's degree or years of equivalent experience in the industry
Job and technical knowledge
Administrative function – required to have a knowledge of all administrative functions required to be undertaken as a Property Manager specializing in Industrial – with experience in Retail
Experience
Property Administration and or Property Management experience (retail and industrial sector strongly preferred)
Building Management – industrial – retail experience a plus
Capital Project Management – opening of a new Industrial/Business Park/Retail center 
Characteristics
Self-starter and strong communication skills
Ability to identify problems and source a solution
Strong ethical principals in relation to financial and legal matters
Ability to manage up and down
Show initiative in the day to day management of tasks to improve efficiency and systems