When:
February 25, 2021 @ 4:30 pm
2021-02-25T16:30:00-08:00
2021-02-25T16:45:00-08:00
Contact:
Narah Jayasekera
714-880-4485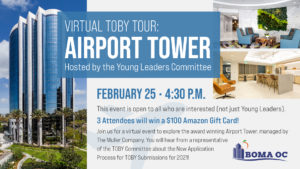 On February 25th, join BOMA Orange County Young Leaders for a virtual tour of the 2020 Outstanding Building of the Year recipient, Airport Tower, managed by The Muller Company.
Airport Tower in Irvine is a 17-story Class 'A' high-rise, Energy Star, LEED Gold Certified-rated office building. The project is in a premier location within the Orange County Airport area, bounded by Los Angeles to the north, San Diego to the south and the Pacific Coast to the west.
The building features white Georgia marble and silver reflective glass with highly polished stainless steel accents, and is recognized by its unique circular design.
Also on the Virtual Tour, you will hear from a representative of the TOBY Committee about the New Application Process for TOBY Submissions for 2021!
This event Is open to all who are interested
(not just Young Leaders).
4 Attendees will win a $100 Amazon Gift Card!
Registration
$10 Members
$15 Non-Members

Thank You for Your Partnership!
• Able Services
• ABM
• Allied Universal
• EMCOR Services / Mesa Energy Systems
• LBA Realty | LBA Logistics
Thank You to our Event Sponsors!
• BluSky
• Brightview
• Gothic Landscape
• Great Scott Tree Care
Committees
Young Leaders
• Director: Bryant Mork, Goodman
• Chairperson: Brett Weekley, RiverRock Real Estate Group
Members:
• Colleen May, Irvine Company
• Guillermo Gonzalez, RMC Facilities Services
• Anthony Bahde, Irvine Company
Registration Policy
Registration is guaranteed on a first come, first serve basis and must be accompanied with payment.Cancellations must be made by 5:00 PM Friday prior to event to qualify for refund.