When:
February 8, 2021 @ 12:00 pm – 1:00 pm
2021-02-08T12:00:00-08:00
2021-02-08T13:00:00-08:00
Contact:
Nara Jayasekera
714-880-4485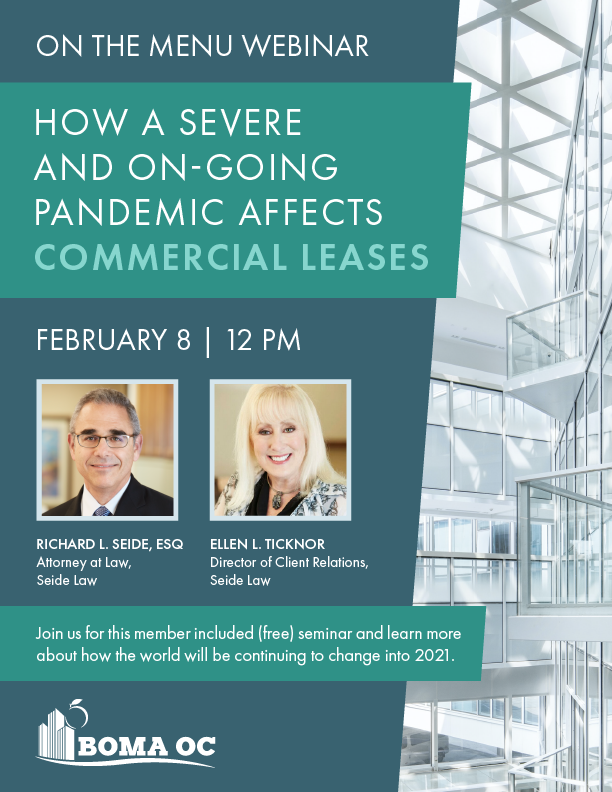 Program
2020 was unprecedented.
With the right soundtrack, it might sound like Billy Joel's 1989 hit "We Didn't Start the Fire":
Global Pandemic, State of Emergency Declared, Stay at Home Orders, Court System Shut Down, Purple Tier, Red Tier, Restaurant Closures, Lay-Offs, Protest Rallies, Schools Closed, Churches Closed, Sporting Events Canceled, Hospitals Overloaded, Masks, On-Line Learning, Events Canceled, Curfews, Essential Workers Only, Eviction Moratoriums, Social Distancing, Rising Death Toll, it goes on and on and on . . . . . Goodbye 2020!
Welcome 2021 Where Do We Go From Here?
In this webinar we'll be summarizing what we know so far about:
The Court System and it's Handling of Commercial Real Estate
Recovering from a 3½ month shutdown
Reduction in staffing, alternating shifts
Zoom trials and hearings
Electronic filings
New procedures for landlord/tenant filings
Governor Newsom's Executive Orders
N-28-20 and N-80-20
Anticipated extensions
Executive Orders
No consistency whatsoever in orders enacted by cities
Is your property governed by a city order or a county order?
Do moratoriums govern non-COVID related issues?
Requirements for landlords
Deferral agreements, rent abatements, enforcement
Late fees, penalties
Lease expirations, enforcement
Join us for this member included (FREE) seminar and learn more about how the world will be continuing to change in 2021.
Agenda
12:00  PM – Program
1:00   PM –  Conclusion
Registration
FREE to BOMA Members and Property Management Professionals
$20 for Non-Members or Non-Property Management Professionals
Thank You for you Partnership!
Able Services
ABM
Allied Universal
EMCOR Services / Mesa Energy Systems
LBA Realty | LBA Logistics
Thank You to our On the Menu Sponsors

DryMaster
SEIDE LAW
VFS Fire and Security Services


---
Committee
Education

Director: Abigail Yocam, Irvine Company
Co-Chair: Gary Bittner, DryMaster
Co-Chair: Nicole Bonita, CBRE
 Members:

Sheri Freed, Onni
Julie O'Brien, VFS
---
Registration Policy
Registration is guaranteed on a first come, first serve basis and must be accompanied with payment.
Cancellations must be made by 5:00 PM Friday prior to event to qualify for refund.